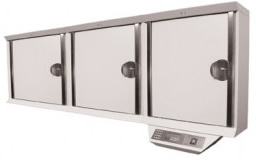 Frequently Asked Questions
---
Is a service/maintenance contract required?
Key Control Systems is one of the few companies that does NOT require a service/maintenance contract
Back to Top
---
How long is the warranty on the KeyWatcher System?
The initial warranty covers parts and labor for a period of two (2) years. An additional warranty can be purchased for one or more years.
Back to Top
---
In the event of a system malfunction, is there a manual override to remove key sets?
The KeyWatcher is one of the few systems that provides a method to manually override the system to release key sets if the system is not responding.
Back to Top
---
Can you release keys from a remote computer?
Yes, you can perform all functions of the KeyWatcher, provided that the proper security codes are used.
Back to Top
---
Can the software be configured to automaticaly download transactions to the computer at a designated time of day?
Yes, the transactions can be automatically downloaded. An operator can configure each KeyWatcher to be queried by a user determined frequency as follows:
Online, as transactions occur
Periodic, number of minutes
Daily, at a specified time
Weekly, specified day of week and time of day
Monthly, specified date each month and time of day
Back to Top


---
What types of alarms are available?
The KeyWatcher provides an alarm for the following conditions:
Overdue keys
Illegal Entry
Key Return Violation
Illegal Acces
Invalid Key
Door left open
AC Power loss
Key Reservation Alarm
Back to Top
---
When I return keys to the system, do they need to be placed in a specific location?
The random key return feature allows the user to return the key to any open locations within the cabinet. This makes it easier for the user who is returning the key and also protects sensitive keys from pattern location placement. However, if you prefer to require each key set to be returned to a specific location you can order the optional "non-random" key return feature.
Back to Top